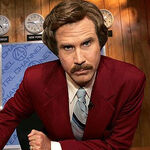 In case you've been wondering when you'll get a glimpse of the upcoming Anchorman 2 film, look no further--right before we see The Dictator in theaters tonight, we will see the Anchorman 2 Trailer!
We know this because of Ron Burgundy's recent tweet: "Dont get Twirter. Anchorman2 teaser w Dictator tom night. Dont know what a teaser is. World is crazy? Having a scotch."
Now the question is, what's going to be better, Anchorman 2 or The Dictator?
Source: thewrap.com
---
---